Della (Joye) Hunter, artist and writer.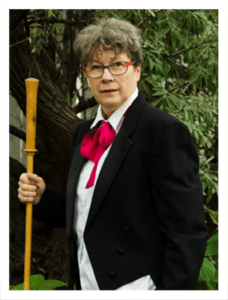 Making art is a romance. The first step to creating an art work is to fall in love. The image has to inspire love or it's just a chore. At first the love affair is tentative. Ruinous mistakes are easy to make, but as romance blossoms the relationship becomes bolder, exploratory, free and even reckless. Art work engages weeks of creative focus and the romance is intense; coloured with the madness of obsession. Love makes us leap off the creative cliff. The love affair is fully expressed when the piece is complete, but, the romance lingers on for a space, drawing long contemplation and sweet remembrance. Then comes the divorce, and a new romance.
As an artist, I love working with pencil crayon and have now returned to my first love, oil painting. Oils are pliable and although acrylic is a medium I also use, oil is easier to blend and create luminous glazing. I do work in acrylic and pastel, but to much lesser extent. As I start my creative endeavour with the subject, it usually dictates what medium I use.
My blog documents changes in my work and interests.
I have wanted to be an artist since I was a child. For years while I worked for a living and could not devote much time to art, I created art in my mind – both stories and pictures. By the time I retired, I had a backlog of things I needed to create in reality – all these stories and images bursting to become real. I have been painting and drawing for several years now and enjoy seeing my work and style develop.
Della Hunter (Joye) studied fine arts at the University of Regina in 1972-74, but because making a living was important too, she became a Psychologist instead of completing the fine arts degree. For years, her creative energies were poured into her day-to-day Psychology work and there was little left over for art. Since retiring, she has worked to set a routine of painting or engaging in art every day. When Covid does not interfere, she is teaches a drawing and art theory course with the University of Regina, Life Long Learning Centre. 
Della is a member of the Regina Brushworks Art Guild (Vice-President) and exhibits works in the Spring and Autumn guild shows. She has sold pencil crayon works to private collectors as well as through the Timeraiser Regina program in 2012 and 2013. She has exhibited works with other charitable events and in the open member's show with the Art Gallery of Regina.
She is showing several works at the Little Manitou Art Gallery in a solo show, April 15, 2022 to May 30th, 2022.
In 2021, two of her still life works were among the finalists in an international competition (https://www.fusionartps.com/2nd-annual-still-life-art-exhibition-august-15-november-14-2021/?fbclid=IwAR1Tndr_Nxu0sEta1yH5YQrYxnOsAEwz3xkv35KvhQDThPLB202fw4jhReo) in the still life category. One piece, "Peppers Galore" belongs to a Regina collector. The second, Still Life with Rounded Forms, remains with the artist.