Della (Joye) Hunter, artist and writer.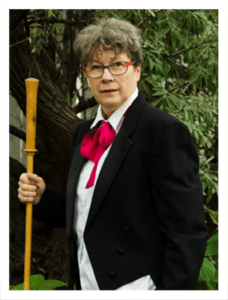 Making art is a romance. The first step to creating a pencil crayon painting is to fall in love. The image has to inspire love or it's just a chore. At first the love affair is tentative. Ruinous mistakes are easy to make, but as romance blossoms the relationship becomes bolder, exploratory, free and even reckless. Art work engages weeks of creative focus and the romance is intense; coloured with the madness of obsession. Love makes us leap off the creative cliff. The love affair is fully expressed when the piece is complete, but, the romance lingers drawing long contemplation and sweet remembrance. Then comes the divorce, and a new romance.
As an artist, I love working with pencil crayon and graphite and have recently developed works in Acrylic. Pencil crayons offer intense colour and rival oil paints and pastels as a durable and potent medium. Because pencil crayon is a slow medium, I might work on a piece for several days or weeks. Each picture slowly transforms from a light initial sketch to a detailed and layered work. I seek to express the architecture and dynamic form of plants in large botanical compositions. At the end of the day, I hope to render something of beauty and to surprise the eye. I like to play with the subject and insert my quirky sense of humour in many of my works.
My blog documents changes in my work and interests. Currently I am exploring entropy through the lens of Saskatchewan landscape and the machinery of the past. 
I have wanted to be an artist since I was a child. For years while I worked for a living and could not devote much time to art, I created art in my mind – both stories and pictures. By the time I retired, I had a backlog of things I needed to create in reality – all these stories and images bursting to become real.
I make art because I have to. Pictures and stories are both visual mediums, Making graphic novels allows me to draw movies. 
Della Hunter (Joye) studied fine arts at the University of Regina in 1972-74, but because making a living was important too, she became a Psychologist instead of completing the fine arts degree. For years, her creative energies were poured into her day-to-day Psychology work and there was little left over for art. Since retiring, she has been active in both visual art and writing. At present, she is teaching a drawing and art theory course with the University of Regina, Life Long Learning Centre. 
Della is a member of the Regina Brushworks Art Guild (Vice-President) and exhibits works in the Spring and Autumn guild shows. She has sold pencil crayon works to private collectors as well as through the Timeraiser Regina program in 2012 and 2013. She has exhibited works with other charitable events and in the open member's show with the Art Gallery of Regina.