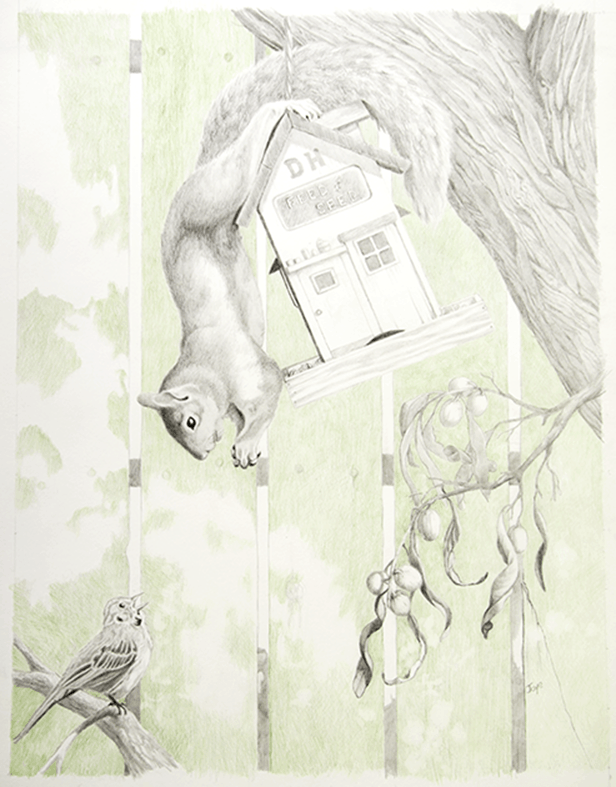 Miscreant♪ Miscreant♪
After teaching a course in drawing and art theory this spring, I was eager to return to graphite as a main medium and also wanted to test out some drawing paper recommended by a local art store (Framemasters). While the picture is drawn with graphite, the background is rendered in pencil crayon to provide contrast and keep the figures in the foreground distinct and unified. Teaching has the effect of highlighting one's own methods and grants insight. You teach yourself as much as others.
I have wanted to complete this drawing of the squirrel raiding the bird feeder for some time, but also wanted to record the dismay the birds might feel given the wasteful marauder's dumping of the feeder to get at the sunflower seeds. Not to mention my own frustration with the squirrel's greed.
I asked Dave Wiebe, a Regina photographer, if I could use one of his photos of a Lincoln Sparrow in the picture and he agreed.
Dave Wiebe is a remarkable photographer and has captured many beautiful images of the prairies and stunning shots of birds. Dave aims to remind us to be aware of nature, to look more and rush less. Many of his photos of birds have required both mastery of his camera and an eye for that moment when a picture is more than just a photograph.
The Lincoln Sparrow brings life to this drawing and for this I thank Dave for his generous willingness to share his work in this way.