Two years of living Graphic Novelly – redux, Part 11
Using Sculpey for Character Development.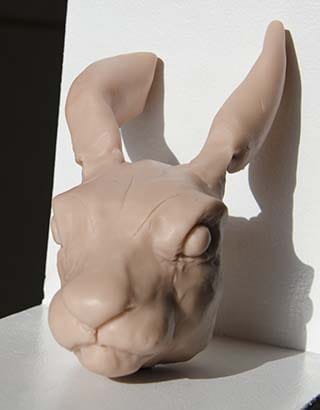 For another animal character, I used sculpey for part of the modelling process. As this character was a rabbit and had long ears, clay did not work well for modelling that part of the head. The scupley, on the other hand was perfect. The ears are too flexible to be unsupported and I could have used wire armature underneath, but, again, I was not interested in making a permanent form. The advantage of the soft sculpey ears is that they can be moved around and posed. They flop fairly naturally and make good drawing model material for that reason. There is no reason to fire the sculpey clay and as long as you don't, the ears remain flexible and posable for a long time. I have yet to have sculpey dry out. Perhaps in a 100 years?
All images are copyright by the author.
The sculpey model is quite a bit smaller than the clay one but still works well.
The difficulty with making a rabbit character is that they are not carnivores and therefore have eyes more to the side of their heads. This makes full frontal expressiveness difficult if you do not fudge a bit and move the eyes more to the front.